Many people are out of work in America today. I've heard as many as 1 in 4 are out of work right now. That's a lot. It's the highest I remember.
At the same time, I hear that many companies are hiring. So fear not, friends! Hold hope that your next job role is out there!
My assumption is that you've been working on your LinkedIn profile. If you haven't been, that will be the topic of a different post in the future. Or check out the podcast from Manager Tools. Meanwhile, if you have found that perfect role – or something you think you're at least 25% qualified for – let's talk about how to find out more information about that role.
Reaching out to contacts about a specific role
Today we'll talk about reaching out to your network about specific roles that you find. Most people know that getting a referral into a company is usually the best way past the automated resume scanners. So how do you find out more about that role, team, the manager, the company and then get that referral?
Note: This is NOT about asking the person for the job. That's for AFTER you get the interview. You can only Close when you wrap up an interview.
People Search

At the top of every page in LinkedIn is the Search box, as shown above. Click here and search for the company for that job that you've found. In this case, I'm going to use Fidelity Investments as the company in my search.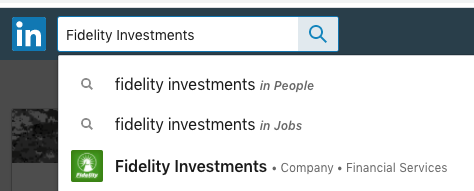 As you can see in the above screen shot, there are several immediate results returned. In this case, we are going to choose "fidelity investments in People".

At this point, I see a resulting page with a LOT of results. Now let's limit our search down to just our contacts. Choose the Connections drop-down and select 1st from the list. Once the checkbox is selected, click the "Apply" button.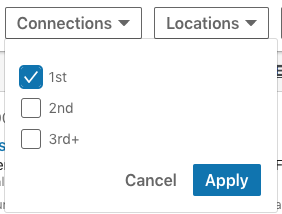 The resulting list will be people that you are directly connected to.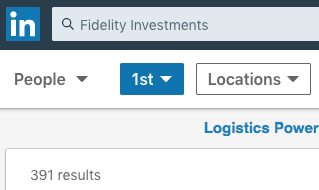 I've quickly gone from 138,000 connections to 391. That's still a lot of people. I can then narrow the search down based on the company location based on the job role that was posted and other criteria for your search.
Company Search
Similar to the connection search above, sometimes you may have to look at the company to see who you're connected with. In this instance, I'm going to see if I can find someone who works at SiriusXM to connect with them about a role.

In this case, there is not an option for "…in People" in the immediate search results as we had in the previous example. So we'll just choose the company site.

From here, there are several ways to continue your search. I'm going to use the same method as we did above. To take the next steps, I'm going to click on the link for "See all 5,754 employees on LinkedIn" that I highlighted above. This will take us to a similar page that we saw in the previous People search example.

Just like in the previous example, we're going to click on "Connections" and choose "1st" and then click the Apply button.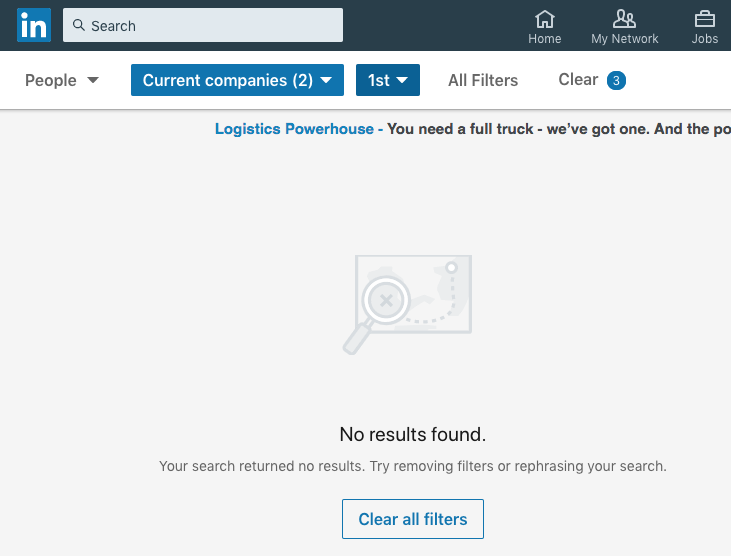 In this case, I have no 1st connections at SiriusXM. So I'll go back to the same button and add "2nd" connections and click "Apply".

At this point, I'm down to 25 connections. This makes it easier to do a search and find someone I'm looking for. At this point, I would look for someone who is in the region for the job posting that I saw to help narrow down the results even further.
Reaching out
Once I've got the list down to a few people, I can then reach out to them about that specific role through either LinkedIn Messages, email, text, or whatever the best communication method is best for your reaching out to that person.
If someone you're reaching out to is the 2nd connection, then find out who the 1st connection is and reach out to them first. Ask them how well they know the person, if they could introduce you to the person, and if they could help you get more information about the role, team, manager, etc. about the company.
Wrapping up
Be sure to use these tips to reach out to your network. Find out more information about a role, the team, the company, the location, or whatever you're most interested in about the company.
Best of luck to you in your search. And if I can help connect you to someone, please reach out! I look forward to help you!
#jobsearch #linkedin #linkedinsearch #linkedinconnections